We've Moved!
Come see us at our new location - 3540 Calumet Ave, Valparaiso, IN 46310!
First-Rate pharmacy care without the wait
Friendly staff - Fast turnaround time - Consultations
Do You Ever Dread Going To The Pharmacy?
Are you sick of the long wait times at large chain pharmacies?
Does the rushed service leave you feeling uncared for?
Do your medications confuse you, with no one to answer your questions?
Have you ever left the pharmacy wondering what you paid for?
You deserve first-rate pharmacy care

Fast turnaround time
Most prescriptions are ready in minutes, leaving you time for what matters most

Consultative approach
Our pharmacists are always available and happy to answer your questions

Low cash prices
Transparent, low pricing that doesn't leave you wondering what you paid for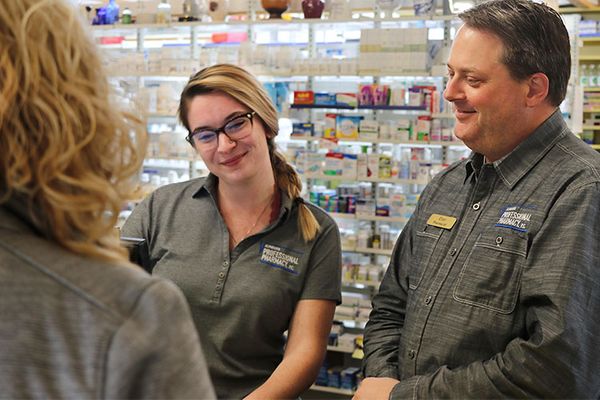 A friendly, expert staff
At Valparaiso Professional Pharmacy, we understand how frustrating long wait times and rushed service can be. 

We value your time and money, so our pharmacists and technicians aim to provide exceptional service, including consultations anytime you need one.

With over 96 years of combined experience, we bring you the finest pharmacy care in Valparaiso. 

It's easy to get first-rate care!
Simply bring in your prescription, or follow these simple steps to transfer your prescriptions:

Provide your information
It's easy! Give us a quick call or fill out our online form.

We transfer your prescriptions
We call your previous pharmacist so you don't have to.

Pick up your prescriptions
The majority of prescriptions can be ready in minutes!
Don't wait to take back control of your health and time. More benefits when you transfer:
Medication synchronization for convenience and optimized health
A large selection of over-the-counter medications and supplements
Talk to a real person on the phone - not a frustrating recording
Understand all of your options, every time

Reminders
Set reminders to take your medications.
Refill On-The-Go
Refill your medications 24/7 without logging in.

User Profiles
Safely store and manage your list of prescriptions.